ELECTROTYPE
BILL NELSON
this is to accompany HOLYGROUND : THE WORKS CD VOLUME 12
notes from the CD booklet are reproduced below in grey print
all other text and photos are additional material
released February 2001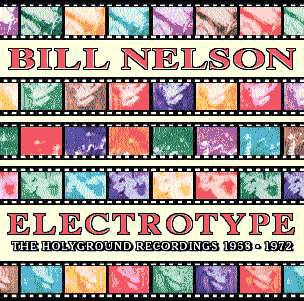 the contents of this page includes opinion, memories and recollections
which may not be completely accurate : the opinions expressed are
not necessarily those of Holyground or of Bill Nelson
to visit Holyground's main site click here
to buy the Electrotype CD click here
(let page load completely before using menu options)
menu
track by track : with Global Village
track by track : with Be Bop De Luxe
track by track : with Chris Coombs
the hidden track
recording Bill
other Holyground records in 'The Works' series
---
The Holyground Recordings 1968 - 1972
Bill Nelson in Global Village, Be-Bop-De-Luxe,
and with Chris Coombs
Bill with global village
Global Village was, for much of its life a three man band. At one point there was an additional person no-one can remember very well, but who features in the publicity photo shoot at Thornes and Heath Common in 1969. Ian Parkin played with the band in the early period, and is on the first track: DEAR MR FANTASY. Chris Coombs also sang with Global Village around 1969.
| | | |
| --- | --- | --- |
| 1 | dear mr fantasy | 4.39 |
| 2 | long grey mare | 2.10 |
| 3 | you don't love me | 2.33 |
| 4 | 598 rundown | 0.56 |
| 5 | babe | 4.52 |
| 6 | stanley blues tail | 2.19 |
| 7 | keep your feathers fine (1) | 3.48 |
| 8 | country season | 3.43 |
| 9 | keep your feathers fine (2) | 3.55 |
| 10 | young eyes | 2.03 |
| 11 | batch #70172 | 1.01 |
| 12 | summer woman | 3.58 |
In 1968, Mike & Shirley Levon and Dave Wood of Holyground went to meet Bill Nelson and two other musicians, Al Quinn and Bryan Holden, at Bryan's flat above the Bull Ring in Wakefield. The group were still choosing a name, a sheet of paper listed several possibilities: favourites were 'Purple Tangerine Snowflake' . . . and 'Global Village'.
Bryan Holden says : "Most of the names we had came from the racing pages of the Daily Mail."

Mike's and Bill's memories of how they first met are not quite the same, but it would seem that Bill called in at Mike's flat and that as a result of that Mike (with Shirley Levon and Dave Wood) went up to Bryan's flat one evening. Sue Quinn remembers them coming. Mike's memory was of the list of names and he recalls there were just the three Globals : Bryan, Al and Bill. As a result of the meeting the Globals booked a recording session with Mike.
Global Village formed in August 1968 when Bryan answered Al and Bill's advertisement for a drummer. Auditions were held at the Leopard pub. When Bryan turned up with his drums on the back of his white MG sports car, as Al Quinn says, "he was in!" They rehearsed during August in Bryan's flat with the windows wide open. In September they had played four gigs - at Stanley Working Men's Club, the Mecca (twice), and 'Smokey City' - by the time they came to record at Holyground on October 4th, 1968.
Bryan Holden says : "The Mecca bookings were courtesy of the then manager Jimmy McCaig. Global's somewhat heavy style left the 'Motown Monday' crowd a little bemused" Smokey City was otherwise known as Sandal Rugby Club. I remember a gig we did at Normanton Grammar School when we used to borrow Orange amps from a guy in Huddersfield".
Al Quinn has a small red notebook belonging to Bill from the early Global Village period. It is a fascinating glimpse of what the band, especially Bill, were listening too; where they gigged and more . . .

<Global Village gigs >
click to enlarge click to enlarge
---
---
As with many groups in the years to come, they had to hump their gear up two steep flights of stairs to Holyground's studio, which had been set up by Mike in his bedroom. The mixing gear was installed on the seven foot by five foot landing outside. That session was the first time Mike had recorded an electric band. Three tracks were recorded and cut on acetates for the group.
More from Bill's red notebook : click images to enlarge

< songs performed by the group >
DEAR MR FANTASY
steve winwood - jim capaldi - chris wood recorded 1968
and part of hey jude : john lennon - paul mccartney
al quinn vocals, bass / bill nelson guitar, vocals / bryan holden drums / ian parkin keyboard / chris coombs backing vocals
piers johnson poet / bretton wanderers noises on and off
Holyground's experimental nature and psych-rock leanings gave Bill's first ever recorded track added noises, assorted people wandering round the studio, and a poet trying to be heard as the song mutated into 'Hey Jude'.
The poet was Piers Johnson, and he was reading some Italian poet! Also playing about and singing was Chris Coombs. There is a strange voice at the very end of the fade out which turned out to be a passing taxi driver being picked up on the mixer's wiring.
Mike also made the sound effects for a local theatre performance of 'The Killing Of Sister George', including using sounds from the Global van; and, as theatre sound engineer, played the recording of 'Dear Mr Fantasy' every night during the intervals.
The Global Village van effects were to provide the famous car crash sounds for the play. This was all done in the yard below the Studio with Mike hanging microphones out of the window while Bryan revved up the van and others threw dustbin lids around!
LONG GREY MARE
p a greenbaum recorded 1968
al quinn vocals, bass / bill nelson guitar / bryan holden drums
YOU DON'T LOVE ME
john mayall recorded 1968
bill nelson vocals, guitar / al quinn bass / bryan holden drums
Shortly after these recordings Holyground went on stage with Global Village, at Stanley Lane Ends Working Men's Club on 8th November 1968. Chris Coombs built a wooden tower on stage as the group played. Mike Levon, wearing native american clothes, tooted on a sawn-off recorder and sprayed crazy foam around, amid girls dressed in bright costumes. The usual club audience weren't at all sure what to make of Wakefield's first 'Happening'.
Mike says "I can remember Ian Parkin playing the organ and being a little bit annoyed when I sprayed it with crazy foam. And the audience were very puzzled by what we were doing. At the bar, still dressed in frayed canvas trousers, snow boots, and makeup, I was asked 'Why are you doing this?' several times".

A handful of colour snaps were taken of this event, a Friday Night at the Stanley Lane Ends Working Men's Club. Two were of the stage event : one is in the CD booklet. The other is shown below, together with several of the Holyground crowd in their specially made costumes for the event. Left to right they are : Shirley Levon; Mike Levon with Linda Wood (twice); Cath Wood.
< Shirley Levon < Linda Wood & Mike > Cath Wood >

on stage at Stanley Lane Ends
(left to right : right at the back Ian Parkin; front Mike Levon;
Al Quinn; with his face hidden Bill; and
on drums Bryan Holden).
---
---
598 RUNDOWN
bill nelson - al quinn - bryan holden recorded 1969
bill nelson guitar / al quinn bass / bryan holden drums
Mike had several tracks of Global Village playing 'live' in the studio - just jamming. The title of this track is by Mike, and he's forgotten why he called it "598"!

Unfortunately several tapes were stolen along with a Brennell tape recorder around this time. A major loss were the tapes of the sessions in January which were destined to be a Global Village LP. Bill's notebook lists these sessions in detail, with comments on the quality of playing and which tracks he considered were ready to release. (Click to enlarge images).

Bill's notebook also lists possible titles for the LP (see below!!) as well as a list of original compositions. One of these Al Quinn has on cassette, but it is grossly distorted and not listenable even after trying to clean it up. A small snatch of the track, "Double Woman Blues" does appear on the CD however, in the 'hidden' track of which more later!

Bill used one of the possible titles later on for a group name at a free concert: "Buffalo Canvas".
BABE
bill nelson recorded 1969
STANLEY BLUES TAIL
bill nelson - al quinn - bryan holden recorded 1969
bill nelson guitar, vocal and harmony vocals / al quinn bass / bryan holden drums, knee slaps
Another Mike title - it refers to the Stanley Lane Ends "happening".
The studio jams in these tracks are typical of early Global Village: Bill's bluesy guitar over Al's reliable bass and Bryan's wild and flowery drumming. It was Mike's idea to weld the jam to the end of 'Babe'.
Babe and the songs which follow it on the CD mark a change of style for Global Village. The jams were still there right to the end, but the songs were more inventive, Bill's own vocal style was stronger and more confident, and the words and music moved away from straightforward blues or covers of other people's songs. Bill's notebook lists records he wanted to buy and those he had which throw some light on his developing tastes. All the 'must have' records from the period appear to be there together with several harder-to-find LPs. Between them the two lists, (shown below), provide a good selection of what mattered musically in 1968-69 and the early seventies. The last page of the book also shows Bill in early doodling, and making the most of spare bits of Letraset from his day job! (Click to enlarge images).
---
RETURN TO MENU
---
KEEP YOUR FEATHERS FINE
bill nelson version one, recorded 1969
al quinn bass, vocal / bill nelson guitar, vocal, harmonica, flute bryan holden drums, tambourine
The "mouse in the park" idea came from Wakefield's Thornes Park where there is a little grave, obviously made by a child, with a small stone which says: "My Mouse". In Bill's doodles on the last page of his notebook is a drawing of the gravestone, see picture above.

The Globals had some promotional pictures taken around the middle of 1969. There are four in the picture including the second guitar player no-one can really remember now, though his name is thought to have been Pete.

Bryan Holden says : "Remember the black and white pics we did on Heath Common, at Thornes
Vicarage, and down at the scrap yard near the railway arches? I've still got them, and also the ones from the day in the park.

The pictures were taken in three venues : on Thornes Wharf; in Thornes scrap yard; and up in the village of Heath just out of Wakefield, both near the rectory and in front of an abandoned house. A selection of these pictures appears below:

< Thorne's Wharf < Heath village < Thorne's Wharf < Heath village < Heath village
< Thorne's Wharf < Heath village

Also in 1969, Global Village played at their own free "Concert in the Park". Holyground was there recording it, but those tapes were stolen along with the January 1969 session tapes.

< bryan holden on drums < bryan and al quinn on bass

< al and bill on guitar > < note the painted poster saying "HOLYGROUND recording live"

as it started to rain some of the crowd took shelter on the stage much to the displeasure of the policeman whose arm can just be seen to the right of the picture. Walking towards the camera and pulling a face at the police complaint is Dave Wood, Mike's co-partner in Holyground at the time.

Global Village in full flight
---
RETURN TO MENU
---
COUNTRY SEASON
bill nelson - al quinn recorded 1970
bill nelson guitar, vocals / al quinn vocals, bass / bryan
holden drums / mike levon matchbox, vox pops
The 'Country Mouse' idea must have been in Bill's mind for a while - at the end of the 'Northern Dream' recordings Bill gave Mike a thank you card "with love from Bill and Country Mouse". Country Season gets a typical Holyground "whatever's lying around, ooh look, a box of matches" percussion from Mike.
KEEP YOUR FEATHERS FINE
bill nelson version two, recorded 1970
al quinn bass, vocal / bill nelson guitar, vocal, harmonica, flute / bryan holden drums

Bill and Al facing the audience at the Concert in the Park, 1969
YOUNG EYES
bill nelson recorded 1970
BATCH # 70172
bill nelson - al quinn - bryan holden recorded 1970
bill nelson guitar, vocal, flute / al quinn bass / bryan holden drums / mike levon & dave wood phase phones
chris coombs and others Aeon Chorus
Another welding job, Bill's idea this time. For the ethereal sound of Bill's guitar, Mike got Dave Wood to hold a pair of headphones by a mike, and open and close them in keeping with Bill's playing while Mike mixed the sounds.
Batch # 70172 was the name Mike gave this jam - simply the batch number of the reel of tape it was recorded on.
SUMMER WOMAN
bill nelson recorded 1971
bill nelson guitar, vocals / al quinn bass / bryan
holden drums
A snatch of a previous take of this song is to be found in the "hidden" track, with Al Quinn hamming it up and letting rip. This track is very possibly the last Global Village track recorded. By this time Bill was well into Northern Dream, and using different musicians; among them members of "Gentle Revolution" and Liam Arthurs and Nick Dew who Bill met through Holyground. Liam and Nick feature on the 1971 Holyground album JUMBLE LANE.
---
RETURN TO MENU
---
TRACK BY TRACK
with Be-Bop-De-Luxe
| | | |
| --- | --- | --- |
| 13 | riders of my love | 2.52 |
| 14 | jet silver & the dolls of venus | 4.17 |
| 15 | be-bop-bac | 3.31 |
| 16 | if stars should fall | 2.20 |
| 17 | after the stars | 1.27 |
| 18 | so insane and so in love | 2.19 |
| 19 | night creatures | 4.22 |
RIDERS OF MY LOVE
bill nelson recorded 1971
bill nelson vocal, guitar / rob bryan bass / ian parkin guitar
richard brown keyboards / nick dew drums
Nick Dew says : "Wow! Much better than I remember. RIDERS OF MY LOVE was a favourite and should have been on 'Axe Victim'. I reckon the 'producer' exercised his power of veto as he thought it didn't fit with the rest of the album. Shame really as it's a delightful little song. I'm 90% sure that Richard Brown played some sort of mechanically plucked stringed keyboard on this. Clavinet, Clavinova? Ian Parkin played guitar, too".

This track, and the next one, have only survived because Mike made a cassette copy of them. The original Master tracks have disappeared.
JET SILVER & THE DOLLS OF VENUS
bill nelson recorded 1971
bill nelson vocal, guitar / rob bryan vocal, bass / ian parkin guitar / nick dew drums / mike levon fx
When Global Village split up, Mike, who hadn't seen Bill for a while, went round to his house where Bill played him a batch of songs. Mike suggested they be put together as an album. Thus was born "Northern Dream". Then there was 'Gentle Revolution', and not long after, Bill"s interim group Flagship. These very early Be-Bop-De-Luxe tracks were believed lost until recently. "Jet Silver" was later remade for the "Axe Victim" album, but "Riders of my Love" premiers here.
Nick Dew says : "I almost prefer this version of JET SILVER AND THE DOLLS OF VENUS. It's somehow more honest! Ian played on this one, too and Rob actually sings the hook with Bill doing the harmonies".
BE-BOP-BAC
bill nelson recorded 1972
bill nelson vocal, guitar / rob bryan bass / ian parkin guitar
richard brown keyboards / nick dew drums
Another Mike title - obvious this time!

Bill recalls: "The Be-Bop backing track was meant as a ' song' originally, I had vocals written but, for whatever reason, never put them down".

Nick Dew says : "BE BOP BAC is actually a backing track for a song called DEVIL IN AN AIR-FLOW CHRYSLER which, again, should have been on the first album. It always went down well with audiences. "Rudi, in his bright electric zoot suit..... Rudi saw the devil, in an air-flow Chrysler. Rudi saw the devil, . . . it was rather frightening" - just a few of the lyrics I half remember! Where it changes at the end to that Ricky Nelson sort of feel, the roadies would inject the sound of an American police siren through the P.A. Plus Ian on guitar! Maybe Richard, too?
IF STARS SHOULD FALL
bill nelson - rob bryan - nick dew - mike levon recorded 1972
snatch of "Blue Suede Shoes" Carl Lee Perkins
bill nelson, rob bryan, chris coombs vocals, percussion, various sounds / ian parkin harmonium / nick dew bass drum, percussion mike levon percussion
One sunny Saturday morning Be-Bop-De-Luxe called in and before long were recording. Bill had the basic tune, but the end phrases got more silly as various people contributed to each passing take.
Nick Dew says : "IF STARS SHOULD FALL took me a while to recall. In fact I scribbled on the back of the envelope / aide memoir, "NEVER heard this B4" It began to come back as John Peel and Gracie Fields were mentioned and by the time the track was finishing, I was back at Holy Ground that Saturday morning!"

The song didn't have a title so Mike took the first line of Bill's words.
AFTER THE STARS
bill nelson recorded 1972
bill nelson vocal, guitar / rob bryan bass / ian parkin guitar
richard brown keyboards / nick dew drums
Yet again a track without a title, so it gained a title from it's position on the album, after IF STARS SHOULD FALL . . .

Nick Dew says : "AFTER THE STARS also featured Ian on guitar and, I think, was performed on stage under a different title, which, of course, escapes me for the moment, but I instantly recognised the piece and was able to anticipate the changes and drum fills. This song is from the era when Richard Brown was rehearsing with the band in the church hall situated in the triangle of land at the junction of the roads to Huddersfield(?) and Dewsbury, quite near to where Bill, Shirley & Julia lived. Maybe Richard played on this?
SO INSANE, SO IN LOVE
bill nelson recorded 1972
part of 'I Do Like To Be Beside The Seaside' John A. Glover-Kind
bill nelson vocal, guitar / rob bryan bass / ian parkin guitar
nick dew drums / mike levon seagulls
Bill had a different, hipper title for this at the time, but no-one can now remember it. The "seagulls" were made by twisting the squeaky handles of a pair of maracas.
Bill says "The song 'So Insane and So In Love' wasn't actually called by that title. I've being racking my brains, trying to remember the correct title. Be-Bop played it live in our early shows. I don't think we ever recorded it for E.M.I. though we may have done it for an early Peel session. Anyway, the proper title, which was shorter and hipper, eludes me. It may be buried away in an old notebook somewhere."

Nick Dew says : "Ian's on this one, too. One of the songs featured all four of us front of stage, sans instruments, doing a short vaudeville type of chorus dance routine to roadie injected music through the P.A. Could have been a development of this song with a longer quote from 'I do like to be ... etc.' "
NIGHT CREATURES
bill nelson recorded 1972
bill nelson vocal, guitar / rob bryan bass, glockenspiel / ian parkin keyboard / nick dew drums
An intimate and beautifully sung Nelson song, recorded shortly before they signed to EMI, and featuring the famous Holyground glockenspiel.
Nick Dew says : "What a lovely 'innocent' version of NIGHT CREATURES. Ian's there as well".
---
---
---
---
TRACK BY TRACK
with Chris Coombs
| | | |
| --- | --- | --- |
| 20 | yesterday | 2.38 |
| 21 | cold tired and hungry | 2.03 |
YESTERDAY
chris coombs recorded 1970
chris coombs vocal, piano, Stylophone / bill nelson lead guitars / brian wilson bass / ted hepworth drums
Chris says "YESTERDAY was meant to be ironic . . . a fairy tale of love gone bad, (and incidently 'Madeline' was really 'Marilyn', words sometimes change themselves when your back is turned), to a catchy conga rhythm . . . admittedly thickly disguised. It was brilliant sharing a wry outlook with Bill, who intuitively added perfect guitar histrionics to my musical dramatics".
COLD TIRED & HUNGRY
chris coombs recorded 1971
chris coombs vocal, tambourine / bill nelson lead guitar
brian wilson bass / mike levon bass drum
Chris says "COLD TIRED & HUNGRY is another example of the genre . . . another character caught up in another drama . . . and Bill and myself both in role performing an operatic duet".
After a recording debut on "A to Austr", Bill played guitar on a number of Chris Coombs' songs: three tracks on 1970"s Astral Navigations, two songs based on A. A. Milne poems, as yet unreleased; and the storming "Cold Tired & Hungry" from Gagalactyca. "Yesterday" features a pocket Stylophone plugged into a Vox AC30, and Bill"s duetting guitars. Around this time too, Chris joined Global Village and gigged for a while as vocalist.

click to enlarge
---
---
TRACK BY TRACK
"Hidden Track"
a collage of oddments
This track consists of snippets of songs and other recording bits and bobs. It starts with a fun 'blues' . . .
Bill says : "The blues parody at the start features both Al and myself on vocals".

Next you can hear Mike asking Bill for a sample of vocal to set the recording level.
Mike says : "What I love about this is how BORED we both sound!"

After a snatch of a backing for an unknown song Brian appears : Brian, the joke teller, who Bill thanked on "Northern Dream" for his 'jokes'.
Bill says : "I had a giggle remembering Brian, (not Holden,) who I'd forgotten about. He was a kind of 'Eddie the Eagle' type . . . bless him ! Never did get that joke right".
(The correct joke is : 'Did you know the pelican has a bigger bill than any other fish eating bird? Last year it came to four pounds ten.")

Some Hendrix like guitar from Bill and then from Al's shout of 'First time!', a short snippet of 'Double Woman Blues'. Shame those tapes were stolen!

A short section of out-take from the 'Summer Woman' session follows with Al giving it his all; and then an even shorter entry to an unknown song.

Last but one, a relaxed and melodic Bill :
Bill says : "The song fragment is from a 'Northern Dream ' composition, possibly 'End of The
Seasons' ?"

A final bit of fake blues ends with the two Holyground folk : Dave Wood's impression of Muttley the cartoon dog with his 'heh heh heh'; and Mike Levon's matching 'tee-hee-hee'.

They were fun times!
---
---
RECORDING BILL
There is a photo of Mike Levon with the 1970 mixing and recording equipment. The poster at the back is advertising 'A to Austr', the first release Bill was on, although only playing brief acoustic guitar plus 'hawaiian' guitar on one track.
So how much other Bill at Holyground is there? Very little.

Bill appears on ASTRAL NAVIGATIONS on three tracks, YESTERDAY, also on this release; and two other Chris Coombs' tracks : NORTH COUNTRY CINDERELLA (playing bowed electric guitar); and (TOMORROW) BUFFALO (playing rhythm and other guitars, and backing vocals).

Bill also features on two Chris Coombs' tracks which use A A Milne's words from poems in "Now We Are Six". The songs are "KING JOHN'S CHRISTMAS" and "THE FRIEND". At the moment these tracks cannot be released as permission has not been granted by A A Milne's publishers.

And, folks, unless any tapes turn up elsewhere, that is it!
The first equipment Mike used to record Global Village consisted of an eight channel mixer with no tone controls, (just visible to the left of the picture opposite, below the poster). This fed the mono mix into a stereo Ferrograph Series Seven tape recorder. Tracks could be bounced on this machine : the mix recorded to the top track was mixed down onto the bottom track while new parts were added, usually guitar solos. A final mix was made back to the top track, usually adding vocals. Occasionally Mike's hatred of added hiss was sacrificed for four, even five overdubs, for instance on 'Babe' where there are at least five Bill Nelsons.
For echo there was a spring reverb unit, (just above Mike's hand in the picture). Microphones were Film Industries ribbon mikes; Shure Unidynes; and much later AKG dynamics.
Later mixers were built by Ted Hepworth, drummer on A to Austr and Astral Navigations. Ted also build a compressor which worked by a standard torch light bulb shining on a resistor!
The studio was 12 feet square; there was only just enough room to get the drum kit and the rest of the group in. The walls and ceiling were covered with thin polystyrene ceiling tiles. The drums were separated from the guitar amps by a wooden hinged panel about 5 feet high. Global Village used Carlsboro amps to record at first, later using Orange amps. On the Chris Coombs' songs Mike plugged Bill's 'Copycat' echo unit direct into the mixer thus achieving massive distortion.
By 1971 Mike had the new mixer and a KEF monitor replaced the hi-fi speaker he had used till then - still recording in glorious mono!
---
---
other Holyground records in 'The Works' series
| | | |
| --- | --- | --- |
| 1 | LAST THING ON MY MIND | released January 2001 |
| 2 | NUMBER NINE BREAD STREET | not yet released |
| 3 | A TO AUSTR | not yet released |
| 4 | ASTRAL NAVIGATIONS | scheduled for early 2003 |
| 5 | GAGALACTYCA | released January 2001 |
| 6 | JUMBLE LANE | scheduled for early 2003 |
| 7 | ODE by BLUE EPITAPH | scheduled for early 2003 |
| 8 | THE LEGEND OF THE KINGFISHER | scheduled for early 2003 |
| 9 | TEARS ON THE CONSOLE | not yet released |
| 10 | LOOSE ROUTES 1 | released 2002 |
| 11 | LOOSE ROUTES 2 | released 2002 |
| 12 | ELECTROTYPE | released February 2001 |
THIS PAGE WILL BE ADDED TO FROM TIME TO TIME SO BOOKMARK IT

to visit Holyground's main site click here
© 2001 Holyground
---
---